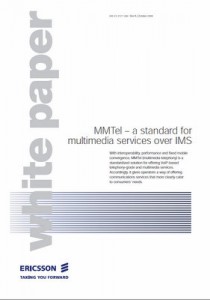 MMTel is a standardized solution to provide voice, video and other telephony services over LTE network (VoLTE). MMTel uses IMS to deliver voice, video and chat services to users. Along with that it specifies the way to share images, videos and files in real time.
MMTel standard is a joint project by 3GPP (3rd Generation Partnership Project) and ETSI/TISPAN (European Telecommunications Standards Institute/Telecoms and Internet Converged Services and Protocols for Advanced Networks). It is considered as the evolution of stereotyped fixed and mobile telephony service which are mostly dependent on circuit-switched technologies. MMTel is designed for All-IP networks with support for legacy systems.
Even though operators need to invest heavily for IMS implementation, but they can generate huge revenue by providing new telephony services.
There are other services already available for VOIP support like Skype, but those does not have standardized specification and relays heavily on application rather MMTel or VoLTE solutions can be integration deep into the modem. There are many befits of this like it will save battery life by not using power-hungry application processors.
You can download MMTel – a standard for multimedia services over IMS to get some fair knowledge about the next generation voice, video and supplementary services.