The LTE frequency bands in 3GPP standards are divided into paired bands and unpaired bands. Some of the bands are presently used by other technologies and LTE can coexist with the legacy technologies.
In the best case in Europe there is over 600MHz of spectrum available for the mobile operators when including the 800, 900, 1800, 2100 and 2600MHz Frequency Division Duplex (FDD) and Time Division Duplex (TDD) bands.
In the USA the LTE networks will initially be constructed on 700 and 1700/2100 MHz frequencies. In Japan the LTE deployments begin using the 2100 band followed later by 800, 1500 and 1700 bands.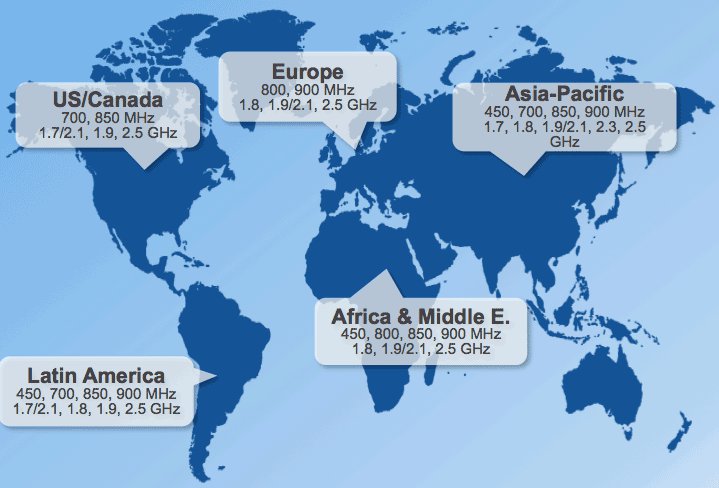 Flexible bandwidth is desirable to take benefit of the diverse spectrum assets: refarming typically requires a narrowband option below 5MHz while the new spectrum allocations could take advantage of a wideband option of data rates of 20MHz and higher.
It is also evident that both FDD and TDD modes are required to take full advantage of the available paired and unpaired spectrum. These requirements are taken into account in the LTE system specification.
LTE and LTE Advanced Frequency Bands Allocations
Frequency Band
E UTRA Operating Band Uplink (UL) operating band
BS receive
UE transmit
FUL_low – FUL_high
Downlink (DL) operating band
BS transmit
UE receive
FDL_low – FDL_high
Duplex Mode
Regions
1
1920 MHz – 1980 MHz
2110 MHz – 2170 MHz
FDD
Japan, Europe, Asia
2
1850 MHz – 1910 MHz
1930 MHz – 1990 MHz
FDD
Canada, US, Latin America
3
1710 MHz – 1785 MHz
1805 MHz – 1880 MHz
FDD
Finland, Hong Kong, Germany, Poland
4
1710 MHz – 1755 MHz
2110 MHz – 2155 MHz
FDD
Canada, US (T-Mobile), Latin America
5
824 MHz – 849 MHz
869 MHz – 894MHz
FDD
Canada, US, Australia, Latin America
6
830 MHz – 840 MHz
875 MHz – 885 MHz
FDD
Japan
7
2500 MHz – 2570 MHz
2620 MHz – 2690 MHz
FDD
EU, Latin America
8
880 MHz – 915 MHz
925 MHz – 960 MHz
FDD
EU, Latin America
9
1749.9 MHz – 1784.9 MHz
1844.9 MHz – 1879.9 MHz
FDD
Japan
10
1710 MHz – 1770 MHz
2110 MHz – 2170 MHz
FDD
Uruguay, Ecuador, Peru
11
1427.9 MHz – 1447.9 MHz
1475.9 MHz – 1495.9 MHz
FDD
Japan (Softbank, KDDI, DoCoMo)
12
699 MHz – 716 MHz
729 MHz – 746 MHz
FDD
US
13
777 MHz – 787 MHz
746 MHz – 756 MHz
FDD
US (Verizon)
14
788 MHz – 798 MHz
758 MHz – 768 MHz
FDD
US
15
Reserved
Reserved
FDD
16
Reserved
Reserved
FDD
17
704 MHz – 716 MHz
734 MHz – 746 MHz
FDD
US (AT&T)
18
815 MHz – 830 MHz
860 MHz – 875 MHz
FDD
19
830 MHz – 845 MHz
875 MHz – 890 MHz
FDD
20
832 MHz – 862 MHz
791 MHz – 821 MHz
FDD
EU
21
1447.9 MHz – 1462.9 MHz
1495.9 MHz – 1510.9 MHz
FDD
22
3410 MHz – 3490 MHz
3510 MHz – 3590 MHz
FDD
23
2000 MHz – 2020 MHz
2180 MHz – 2200 MHz
FDD
24
1626.5 MHz – 1660.5 MHz
1525 MHz – 1559 MHz
FDD
25
1850 MHz – 1915 MHz
1930 MHz – 1995 MHz
FDD
US (Sprint)
…
33
1900 MHz – 1920 MHz
1900 MHz – 1920 MHz
TDD
34
2010 MHz – 2025 MHz
2010 MHz – 2025 MHz
TDD
35
1850 MHz – 1910 MHz
1850 MHz – 1910 MHz
TDD
36
1930 MHz – 1990 MHz
1930 MHz – 1990 MHz
TDD
37
1910 MHz – 1930 MHz
1910 MHz – 1930 MHz
TDD
38
2570 MHz – 2620 MHz
2570 MHz – 2620 MHz
TDD
EU
39
1880 MHz – 1920 MHz
1880 MHz – 1920 MHz
TDD
40
2300 MHz – 2400 MHz
2300 MHz – 2400 MHz
TDD
China, India, Australia
41
2496 MHz 2690 MHz
2496 MHz 2690 MHz
TDD
US (Clearwire)
42
3400 MHz – 3600 MHz
3400 MHz – 3600 MHz
TDD
43
3600 MHz – 3800 MHz
3600 MHz – 3800 MHz
TDD
Note: Band 6 is not applicable