Voice over LTE – VoLTE is the technology to provide voice and video services over LTE all PS network. As LTE is a complete PS network VoLTE need to use IMS in EPS core to handle voice and video related services. Apart from IMS, VoLTE enabled UE (User Equipment) use MME (Mobility Management Entity) to authenticate a UE prior to entering the EPC. MME need to communicate with HSS which in turn communicate with AAA server for authentication, authorization and accounting purposes.
After authentication procedure is over a control signalling is used to create a default bearer to internet. MME then select the appropriate SGW (Serving Gateway) to connect to eNodeB.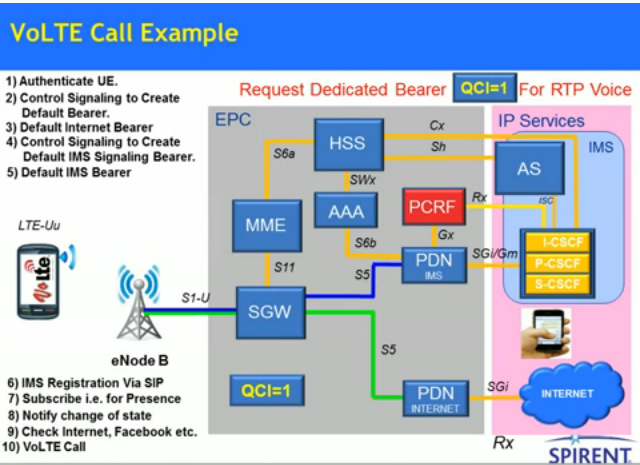 SIP is the most important protocol in VoLTE communication. It is in charge of all signalling required to setup, manage and terminate the session. UDP (User Datagram Protocol ) protocol is used for transmission of actual VoLTE user data packets.
This LTE video tutorial describes:
Authentication of UE in VoLTE call
How control signalling is used to create default bearer in VoLTE
How default internet bearer is established
Control signalling to create default IMS bearer.
Default IMS bearer establishment.
IMS registration via SIP
Notify change of state
Actual VoLTE call data packet transmission on UDP
VoLTE Signalling Call Flow – Video Tutorial
Further Study
[AMAZONPRODUCTS asin="1119951682″]