The history of mobile communication is long and an interesting one. Started back in 1950s the wireless technology evolved with time and requirements. The biggest technology breakthrough came as GSM (Global System for Mobile Communications, originally Groupe Spécial Mobile). GSM was basically developed for voice based communication and it was a near-perfect system for that purpose. But when data communication requirements came into picture GPRS (Global Packet Radio System) was introduced for better data throughput. They say Data Throughput is never enough.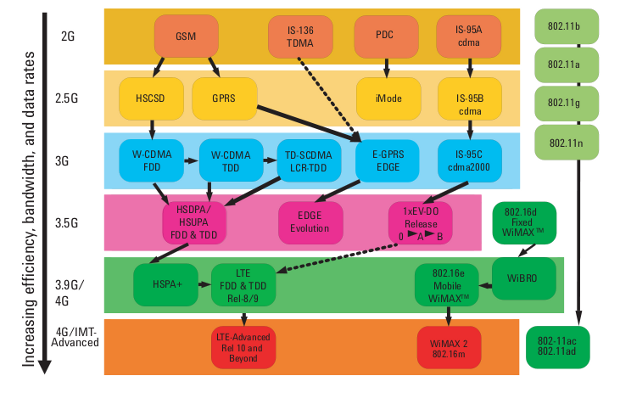 This simple concept of better data speed created 3G, which was quite good. Later from 3GPP release 5 HSDPA was introduced and in 3GPP release 6 HSUPA.
HSPA+
Then came HSPA+ which is basically enhancement to HSDPA and HSUPA. Most of the current network infrastructure supports downlink HSPA+ speed of 21 Mbps or 42 Mbps. The seed is good enough for current data hungry smart phones. But as I said earlier there is no upper limit to data rate.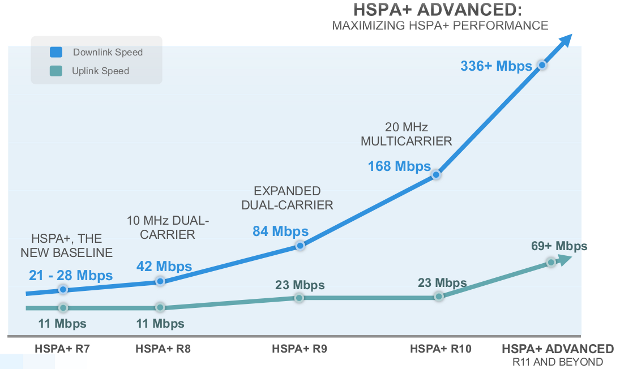 HSPA+ enhances the mobile broadband experience by providing up to 28 Mbps peak data rates in the downlink (DL) in R7, and up to 42 Mbps in R8. HSPA+ has a strong evolution path and will continue to evolve beyond HSPA+ R8 to further enhance the HSPA+ performance and provide a clear evolution path for current HSPA networks. HSPA+ R9 and beyond is considering enhancements such as expanding HSPA+ multicarrier beyond 10 MHz deployments combined with MIMO (Multiple Input Multiple Output) to provide peak rates of 84 Mbps and more.
LTE
The next generation technology which was designed to take data communication to next level is LTE (Long Term Evolution). As LTE's main requirement was to make a better technology for data communication LTE was made IP based, means instead of CS and PS plane (IUps and IUcs) now everything will be on one plane and that is only PS.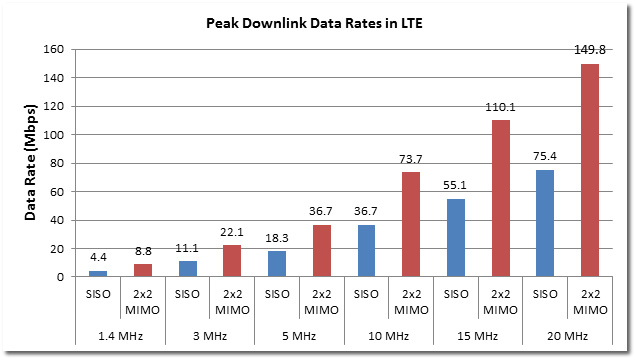 So how much data throughput one can expect from LTE?
Theoretical speeds boast downlink speeds of 300 Mbps and uploads of 75Mbps.
But that not enough!
Yes this is not the end as LTE is designed to evolve means it is easy to make changes and adopt to bring the best. As a result of that LTE-Advanced came into picture.
LTE-Advanced
LTE-Advanced can be considered as the real 4G technology (ITU). The throughput requirement for LTE-Advanced is set to 1 Gbps.
To accommodate LTE-Advanced capabilities, three new UE categories 6-8 have been defined. UE categories 1-5 for Release 8 and Release 9 were defined for LTE.

Here is a road map for AT&T and it shows where AT&T is heading from network deployment prospective.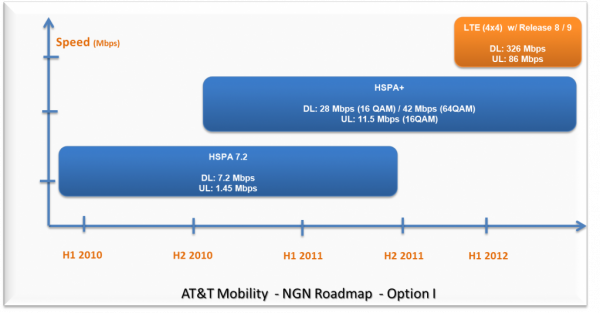 Here is the technology evolution path for HSPA+ and LTE. The LTE-Advanced 2016 (1 Gbps downlink) looks very interesting.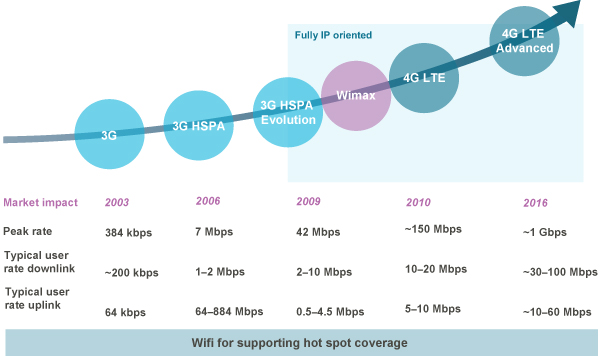 Conclusion
Although HSPA+ is the technology of today, LTE-Advanced will open many new doors for next generation smartphones and mobile equipments. The future is definitely with LTE and there is no doubt about that.
Do you think otherwise? Give your view.
Further Studies on LTE and HSPA+
There are numerous resources to improve your grip in LTE and HSPA+. For example 4G: LTE/LTE-Advanced for Mobile Broadband is a amazing book for LTE as well as LTE-Advanced research.
To get some strong understanding on HSPA+ try WCDMA for UMTS: HSPA Evolution and LTE authored by Harri Holma.