Qualcomm unveiled two new application processors to power future mobile hardware. Like their predecessors Snapdragon 600 and Snapdragon 800 come with power packed features for fast performance and better battery life.
Qualcomm Snapdragon 600 Features
Quad Core Krait 300 CPU running up to 1.7 GHz
Adreno 320 GPU – offering over 3x the performance of A225 &, as the first GPU in the Adreno 300 series and introduces support for new mobile and GPGPU compute APIs such as OpenGL ES 3.0 , OpenCL and Renderscript Compute.

LPDDR3 RAM— (Low Power Double Data Rate 3)- LPDDR3 RAM will help in increasing the data transmission between different components. With this performance in increased in the processor.

Performance Boost—we expect the Snapdragon 600 processor to deliver up to 40% better performance than the Snapdragon S4 Pro processor.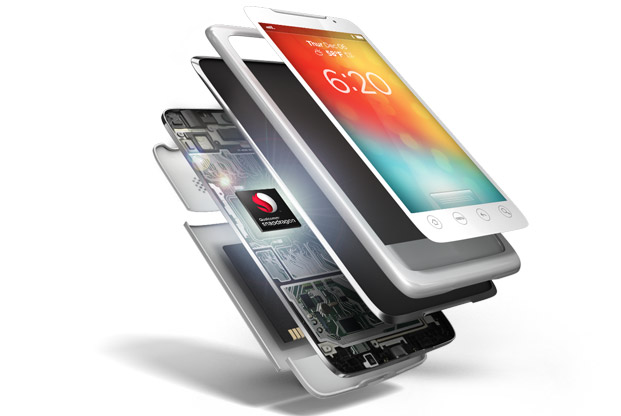 Snapdragon 800 Processors Features
Quad Core Krait 400 CPU—speeds up to 2.3 GHz, per core
Adreno 330 GPU—featuring patented Flex Render Technology and leading edge API's that are designed to expand the use of GPU processing for general computing and other SoC tasks, the Adreno 330 GPU offers a 2 times better compute performance than Adreno 320
2x32bit LPDDR3 RAM at 800MHz – with industry-leading memory bandwidth of 12.8GBps.
4G LTE Cat 4 and 802.11ac—these connectivity options offer blazing fast, seamless connectivity with cellular modem boasting data rates up to 150 Mbps and 802.11ac at speeds up to 1 Gbps.
UltraHD—video can be captured, played back and displayed in UltraHD (previously called "4K.") The resolution has four times as many pixels as 1080p. (1920x 1080 versus 4096 × 2304)
HD Audio—support for DTS-HD, Dolby Digital Plus and 7.1 surround sound.
Dual Image Signal Processors (ISPs) up to 55MP – with support for up to four cameras and allows for 3D captures, photo merging into a master 55MPixel image, separate autofocus and captures, 1080p30 video captures.
Overall Performance Boost—the Snapdragon 800 processor is expected to deliver up to 75% better performance than the Snapdragon S4 Pro.