ABI research came out with it's extensive list of world's biggest mobile phone manufacturers. Most of the research firms just list the top 5 mobile phone suppliers, but ABI research came out with the extensive list of world's 11 biggest mobile phone manufactures and the number of handsets they shipped in Q3 2012.
Third quarter 2012 market share by OEM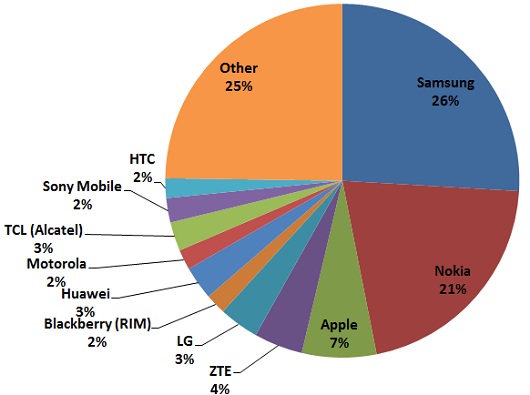 OEM shipments from first quarter 2010 to the third quarter 2012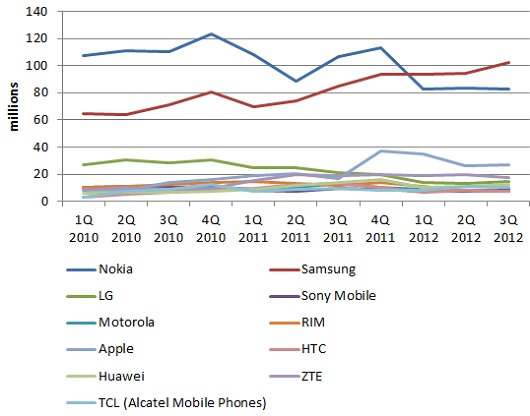 Overall smartphone shipments vs. non smartphones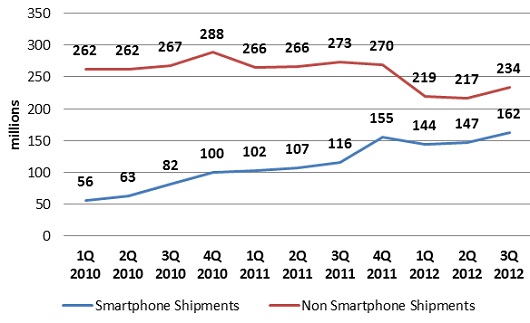 Analysis from ABI Research
| Vendor | Shipments | Analysis |
| --- | --- | --- |
| Samsung | 102.6 million | In Q3 Samsung extended its handset leadership over Nokia and its smartphone leadership over Apple with over 55 million smartphones shippped. Although shipments of the Galaxy S III started in Q2, shipments of the S III have already reached 30 million and with the Note II coming to market, Samsung is likely to have another record quarter in Q4. |
| Nokia | 82.9 million | Considering the fact that Nokia's Windows Phone 7 devices were made obsolete by the Windows Phone 8 announcement, it is surprising that Nokia was able to muster 6.3 million in smartphone shipments in Q3. On the feature phone side, Nokia's line of Asha handsets continued to find market success for consumers looking for a "smartphone-like" experience. |
| Apple | 26.9 million | While a slowdown in Q3 shipments was expected, it was assumed that the launch of the iPhone 5 would bring Apple back to it's old 80 percent growth levels. Unfortunately, the initial sales of the iPhone 5 were a little muted due to the limited number of lauch countries in Q3. ABI Research believes that even with a blockbuster quarter of 50 million iPhones in Q4, Apple will not be able to reach the growth rates of its past. |
| ZTE | 17.6 million | Even with a slight dip in shipments, ZTE was able to capture the fourth position in Q3 after breaking into the top five for the first time last quarter. Having risen from the realm of low-cost handsets and low-end smartphones, ZTE's structure is well adapted to winning market share in an enviroment of shrinking ASP's and margins. ABI Research believes that ZTE's brand strength in its home market of China, will go a long way to keeping ZTE at the top of the list of global handset OEMs. The effects of the recent U.S. reports of ZTE and Huawei being a security threat have yet to manifest, but ABI Research believes this will have more political implications than business implications. |
| LG | 14.4 million | LG Shipments increased 10 percent sequentially and the company reagained its profitable status once again. LG will continue its strategy of focusing on LTE smartphones going forward, particularly as this strategy is begining to deliver a profitable quarter here and there. ABI Research believes that winning in this space will be difficult for LG in markets outside of South Korea as Samsung continues to take over every market it touches. |
| Huawei | 12.1 million | Historically considered a low-cost Chinese handset OEM, Huawei shares the international stage with ZTE and TCL/Alcatel, as a rising star from China. Despite being named a potential security threat in the U.S., the "double secret probation" status did not keep Huawei from growing its shipments in Q3. |
| TCL (Alcatel) | 10.5 million | TCL was able to show a 11.8 percent year-over-year growth in a quarter where most OEMs were citing competitive and macro economic excuses for their limited growth. Furhtermore TCL delivered 2 million smartphone shipments in Q3 which represents a 1,200+ percent growth year-over-year. TCL has also been able to grow its feature phone shipments and is actively gaining in the Chinese market. ABI Research believes that TCL is yet another Chinese dragon with the teeth to win at home and abroad, and will soon pass Huawei in terms of handset shipments. |
| Sony Mobile | 8.8 million | And just like that Sony is crawling its way back up the list of top ten OEMs. While Sony did drop out of the top ten last quarter, ABI Research expects that Sony can hold its own in the top ten, although it will likely come from a drop in shipments of its competition more than Sony's expected growth. Much like the Motorola acquisition, Sony has yet to put it's stamp on the devices that are currently in the market, but if it is done properly, Sony can offer Sony Mobile a treasure trove of technology, ecosystem and content support. |
| Blackberry (RIM) | 7.4 million | Q3 was a another holding pattern quarter for RIM and its position has risen to No. 9 on the list. On the bright side, RIM did out perform Nokia, Motorola and HTC in terms of smartphone shipments. ABI Research believes that BlackBerry 10 could be a competitive platform, but may arrive too late for RIM to remain in the top ten list. ABI Research believes that finding a company to buy or license BB10 will be very difficult considering that the competitors that need a new OS still can't afford one, and those that can afford one, don't need it. |
| Motorola | 7.3 million | With the acquisition complete and Motorola showing on the financial statements of Google, there is still a lot of speculation as to how Google will manage its $12 billion dollar baby. With the latest portfolio of 3 device types and one extra device featuring an Intel based application processor, it appears that Google wants its Motorola phones to have great battery life, great screens, and minimal marketing. |
| HTC | 7.1 million | With shipments continuing to drop, HTC may not be on the top 11 or even the top 12 in Q4. HTC has offered guidance that sales in Q4 will be even lower than Q3. Considering that Q4 is a very important quarter, HTC's inability to grow shipments during the holiday season is very troubling indeed. |
Market share of different mobile phone manufactures
| Samsung | 25.9% |
| --- | --- |
| Nokia | 21.0% |
| Apple | 6.8% |
| ZTE | 4.4% |
| LG | 3.6% |
| Huawei | 3.1% |
| TCL (Alcatel) | 2.7% |
| Sony Mobile | 2.2% |
| Blackberry (RIM) | 1.9% |
| Motorola | 1.8% |
| HTC | 1.8% |
| Other | 24.8% |
br>
Subscribe to our email newsletter for jobs, useful tips and valuable resources.
Subscribe to 3GLTEinfo