What is 3G?
3G is the third generation cellular system. Here we will discuss about UMTS (Universal Mobile Communication System) which is a 3G system.
Foundation of Cellular Concept
In 1972 Bell Labs registered a patent which was the foundation for 2nd generation and 3rd generation cellular technologies.
The Idea: Instead of base stations that cover large areas, each base station should cover a small area. This way the same frequency can be reused.
The patent can be found at the following link:
http://www.google.com/patents/about?id=7yI1AAAAEBAJ&dq=bell+labs+patent+for+cellular+antenna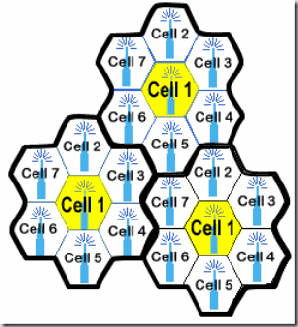 Frequency Reuse
UMTS Requirements
2nd Generation Mobile systems were mainly developed for Voice based services. Later some data services were added to that system. But 3G was developed taking the future into consideration. The main requirements for 3G are listed below:
Bit rate up to 2 Mbps.
Variable bit rate support.
Multi service support. Example: Browsing at the time of voice communication.
Delay requirements for delay sensitive real time traffic.
Quality requirements from 10% frame error rate to 10 to the power -6.
Inter-system Hand Over. Handover between 2nd and 3rd generation systems.
High spectrum efficiency.
Support of TDD and FDD mode.
Support of location based services.
3gpp Specifications
At the high level the 3gpp specifications are structured through different releases. The releases specify a version of system with some particular features. Following are the different releases of UMTS specifications are the most important new features implemented in that release.
Release
Date Frozen
New Features
99
March 2000
W-CDMA air interface
4
March 2001
Bearer independent CS Architecture
TS-SCDMA
5
June 2002
HSDPA
IMS
6
March 2005
HSUPA
7
September 2007
HSPA+
8
December 2008
Long Term Evolution
9
Enhanced eNodeB
10
Not Updated
The 3gpp specification has document number like: TS 25.331 V 6.22.0.
TS: Technical Specification
25: Series number
331: Specification Number
6: Release number
22: Technical Version Number
0: Editorial Version Number
List of 3gpp series number:
| | |
| --- | --- |
| 21 | Requirements |
| 22 | Service aspects ("stage 1") |
| 23 | Technical realization ("stage 2") |
| 24 | Signalling protocols ("stage 3") – user equipment to network |
| 25 | Radio aspects |
| 26 | CODECs |
| 27 | Data |
| 28 | Signalling protocols ("stage 3") -(RSS-CN) |
| 29 | Signalling protocols ("stage 3") – intra-fixed-network |
| 30 | Programme management |
| 31 | Subscriber Identity Module (SIM / USIM), IC Cards. Test specs. |
| 32 | OAM&P and Charging |
| 33 | Security aspects |
| 34 | UE and (U)SIM test specifications |
| 35 | Security algorithms |
| 36 | LTE (Evolved UTRA) and LTE-Advanced radio technology |
| 37 | Multiple radio access technology aspects |
UMTS Architecture
Core Network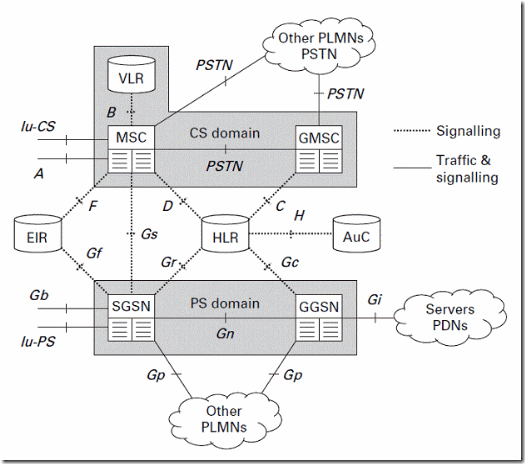 The Release 99 Core network contains the circuit switched domain and packet switched domain. The Core Network contains the following entities.
HLR: Home Location Register
The HLR is located in the user's home system. It contains the user's service profile.
AuC: Authentication Center
The AuC contains security related information.
EIR: Equipment Identity Register
EIR is an optional component. It contains information such as list of stolen mobiles.
MSC/VLR: Mobile switching center / Visitor location register
The MSC job is to switch the CS transactions and VLR job is to store a copy of the user's service profile as well as more precise information about UE's location within the service system.
GMSC: Gateway MSC
This is a switch and this connects the UMTS PLMN to the external CS networks.
SGSN: Serving GPRS Support Node
The SGSN job is similar to MSC/VLR but this is for PS traffic.
GGSN: Gateway GPRS Support Node
This is similar to GMSC but it serves for the PS traffic.
Radio Access Network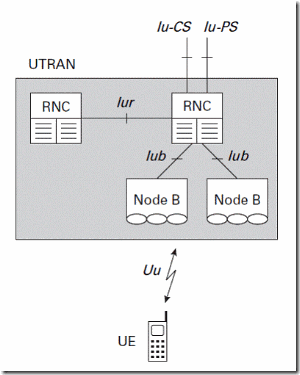 UTRAN has two main nodes NodeB and RNC.
NodeB:
NodeB is a physical unit for radio transmission and reception with cells. NodeB may have one or more cells depending on sectoring. UE is connected to the NodeB through the Uu interface, which is a radio interface.
The main task of the NodeB is conversion of data to and from the Uu interface, including Foreword error correction (FEC), rate adaptation, W-CDMA spreading and dispreading. The NodeB also takes care of the Soft Handover in case of FDD.
RNC: (Radio Network Controller)
The RNC owns and controls the radio resources in its domain. It is an intermediate component between NodeB and the CN.
RNC has three main functions. The RNC can acquire three different names depending on the function it is performing.
CRNC: Controlling RNC
Each NodeB is controlled by a particular RNC. This RNC is called the Controlling RNC (CRNC) for the NodeB.
SRNC: Serving RNC
Each mobile or UE is controlled by a particular RNC. This RNC is called serving RNC. The SRNC exchanges signaling messages with the mobiles it serves, and act as a sole point of contact with the Core Network.
DRNC: Drift RNC
A drift RNC uses the Iur interface to carry UE specific signalling information between the NodeBa and the SRNC.
User Equipment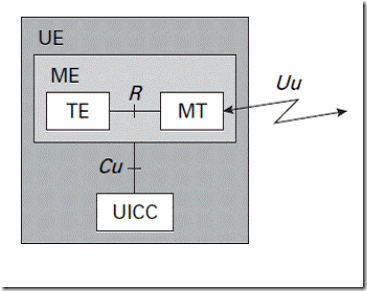 The UE consists of two main parts, Mobile Equipment (ME) and Universal Integrated Circuit Card (UICC).
ME: Mobile Equipment
The ME consists of two parts, Terminal Equipment and Mobile Terminal.
Terminal Equipment is the point where all data streams start and end.
Mobile Terminal handles all 3G communication functions.
USIM (UICC)
USIM  is a smartcard that holds the subscriber identity, performs the security algorithm, and stores the authentication and encryption key and subscription information.