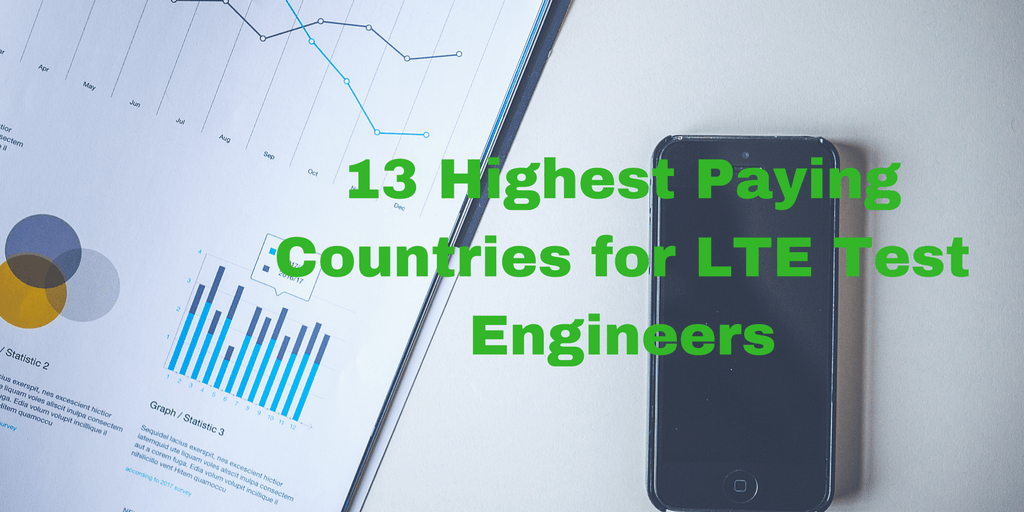 I was a tester for a long time and I was asked the following question from time to time.
What is the best country to work as a LTE tester? In which country I can use my competence to get better compensation and live a better life.

World is a open place now. Back in 2007, when I was in India, I was looking for a change in job. But my aim was to explore the best possible opportunity, both in India and abroad. I was not looking at salary as the only criteria. It was mix of the company, the job description and monetary compensation. I was in search for a job where I will get greatest exposure as a tester, at the same time get most return for my time and effort.
Though, it was hard to get contact and interview calls at that moment from companies outside India. But, I was not in a hurry to grab anything. So I waited for my best opportunity and moved to Sweden. And, when I think now it was one of the best decision I made in my life. I learnt a lot during my last 8 years from extremely talented people in mobile industry.
Are you looking for a job change as a LTE tester? Are you confused which country is best to move for your next assignment.
I made a list of top 13 countries where you may like to work as a LTE tester. But, please keep in mind that, this list is based on my observation and finding.
I used data from Glassdoor.com and Payscale.com. And in some cases got input from my friends working in other companies and countries.
To make the list simple, I converted the salaries into US dollar. The actual salary may vary a bit.
Highest Paying Countries for LTE Testers
Rank
Country
Salary Per Year (USD)
Companies
13
India
$10000 – $32000
Most modem and network equipment manufacturer (Qualcomm, Ericsson, etc).

Most mobile device manufacturer (Samsung, Huawei, etc)

Operators: Airtel, Vodafone, Reliance, etc

12
UAE
$27000 – $60000
Major device manufacturers

Operators:  Etisalat and du

11
New Zealand
$25000 – $62000
LTE operator: Spark, Vodafone, 2 degrees
10
Singapore
$31000 – $50000
LTE Operators: Singtel, Starhub
9
Finland
$40000 – $48000
Operators: DNA, Elisa, Sonera

Network vendors: Nokia

Modem vendors: MediaTek

8
Australia
$35000 – $70000
Operators: Optus, Telstra, Vodafone
7
Canada
$30000 – $60000
Operators: Rogers, Bell, Telus

Device Manufacturers: BlackBerry

Network vendors: Ericsson

6
Sweden
$39000- $58350
Operators: Telia, Tele2, 3

Network vendors: Ericsson, Huawei

Modem: Huawei

Device manufacturers: SONY

5
Germany
$37000 – $70000
Operators: Telekom, Vodafone, O2

Modem: Intel

4
Japan
$50000 – $90000
Operators:Docomo, Softbank

Network Vendors: Ericsson, Nokia, Docomo, etc

Device manufacturers:SONY, Panasonic, etc

3
UK
$60000 – $70000
Operators: 3, O2, EE, Vodafone

Modem: Qualcomm

2
Denmark
$60000 – $85000
Operators: Telia, 3, TDC, telenor
1
USA
$90000 – $150000
Operators: AT&T, Verizon, T-Mobile, etc

Network vendors; Ericsson, Nokia, etc

Device manufacturers: Apple, Samsung, LG, Google, etc
As I mentioned, I made this list for reference purpose only. The the salary you are getting or going to get may differ from one company to another. Also, your competence and level of expertise will largely determine your next salary.
What do you think about this list? What is the salary range in the company you are working at the moment?
Post your comments and feedback.