High Speed Uplink Packet Access (HSUPA) is introduced in 3GPP Release 6 standards to improve the uplink UE data rate which was significantly low up to Release 5. To improve the uplink data rate some new functionality are added:
New MAC entities: MAC-e/es in UE and MAC-e in NodeB and MAC-es in RNC.
Transport channel: E-DCH
Physical channels: E-DPDCH/DPCCH, E-HICH, E-RGCH, E-AGCH
Transmission Time Interval: 2 ms or 10 ms
SF = 2 can be used
Fast Layer 1 transmission and retransmission
Hybrid- ARQ using soft combining and incremental redundancies
NodeB control grants or data rate
New Frame Protocol in Iub/Iur interface (E-DCH FP)
MAC Protocol
HSUPA introduced some changes in MAC protocol both in the UE and network side.
MAC-e in the NodeB
MAC-es in the SRNC
MAC-e/es in the UE
MAC –e in the NodeB
The MAC-e entity is located in the NodeB. There is one MAC-e entity in the NodeB for each UE.
The MAC-e entity is responsible for
Managing the cell resources related to HSUPA between UEs.
Receiving the scheduling requests from the UEs and transmission of scheduling grants.
De-multiplexing of MAC-e PDUs into MAC-es PDUs.
Management of HARQ entity, which is responsible for transmitting ACK/NACK.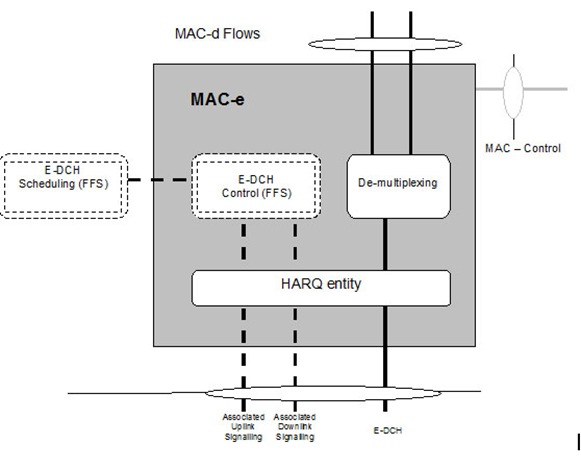 MAC-es in SRNC
For each UE there is one MAC-es entity in the SRNC. The MAC-es covers the following functionalities:
Combining and reordering the MAC-es PDUs according to TSN and NodeB tagging i.e. (CFN and subframe number)
Disassembling the MAC-es PDUs. When MAC-es PDUs are disassembled the MAC-es header is removed and MAC-d PDUs are extracted. Then the MAC-d PDUs are delivered to MAC-d entity.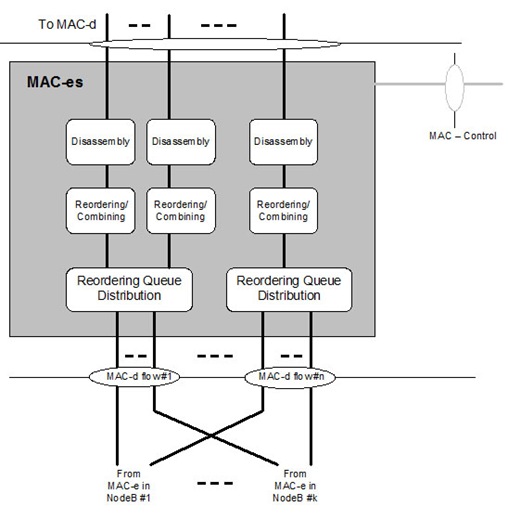 MAC-e/es in UE
MAC-e/es handles the E-DCH specific functions in the UE. There are three different entities in MAC-e/es.
HARQ
HARQ entity is responsible for ACK/NACK handling. It receives ACK/NACK from the nodeB and act accordingly.
Multiplexing and TSN setting
Multiplexing and TSN setting entity is responsible for concatenating multiple MAC-d PDUs into one MAC-es PDU, and to multiplex several MAC-es PDUs into one MAC-e PDU.'
E-TFC selection
This entity is responsible for E-TFC selection taking the following into consideration:
Relative Grant
Absolute Grant
Serving Grant
E-DCH Transport Channel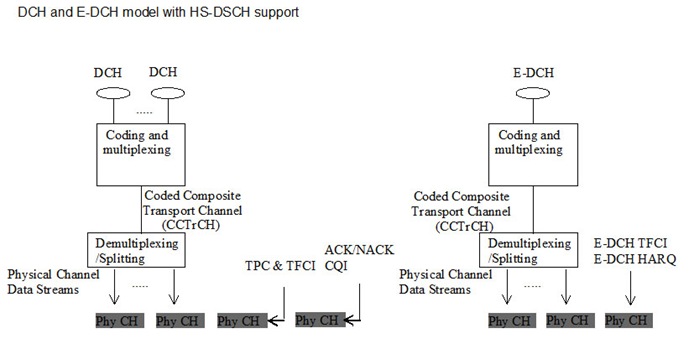 On the uplink when E-DCH is supported, two CCTrCH are used simultaneously. The E-DCH transport channel can be configured with 10 ms TTI or with 2 ms TTI. 10 ms TTI is mandatory and must be supported by all UEs which support E-DCH, but 2 ms TTI is optional.
UE can have only one E-DCH transport channel at a given point of time. The E-DCH can be mapped onto one CCTrCH of E-DCH type at a given point of time and there will be only one Transport Block (TB) per TTI.
Physical Channels for HSUPA
Enhanced Dedicated Physical Data Channel (E-DPDCH)
The E-DCH transport blocks are carried on the E-DPDCH channel in the physical layer. E-DPDCH operates in 2 ms or 10 ms TTI. Release 6 E-DPDCH uses QPSK modulation and in Release 7 there is possibility to use 4 PAM modulations.
The E-DPDCH does not carry any other information other than data symbols. It depends on the DPCCH to carry pilot symbols and channel estimation and on E-DPCCH to carry E-TFC, Retransmission Sequence Number (RSN) and happy bit.
E-DPDCH uses multi-codes combinations to increase the data rate. Spreading Factor 2 (SF 2) can also be used.
So the different possibilities of data rates with code combinations:
| | |
| --- | --- |
| Number of codes | Data Rate (kbps) |
| One code with SF 4 | 960 |
| Two codes with SF 4 | 1920 |
| Two codes with SF 2 | 3840 |
| Two codes with SF 4 and two codes with SF 4 | 5760 |
Release-6 E-DPDCH

Release-7 E-DPDCH

Enhanced Dedicated Physical Control Channel (E-DPCCH)
E-DPCCH carries HSUPA-related physical layer control information. E-DPCCH always follows the TTI length of E-DPDCH.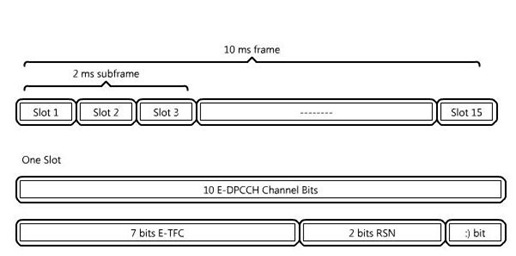 The E-DPCCH carries the following information:
E-TFC information which is 7 bits long. E-TFC determines the data rate.
2 bits of retransmission information. RSN tells whether the packet is a new or retransmission of a previously transmitted packet.
The last 1 bit is the happy bit which tells whether the UE can use a higher uplink data rate or not.
For 2 ms TTI Case
The 10 information bits are coded into 30 bits over three consecutive time slots.
For 10 ms TTI Case
The content of 2 ms subframes are simply repeated five times.
E-DCH Hybrid ARQ Indicator Channel (E-HICH)
E-HICH channel is used to send the ACK/NACK information in the downlink i.e. NodeB indicates whether a packet is correctly received from a UE or not.
E-HICH is shared by multiple users at the same time. Each user is allocated one orthogonal signature for E-HICH and one for E-RGCH. Since there are 40 orthogonal signatures are available so only 20 users can use the same code channel at a specific point of time.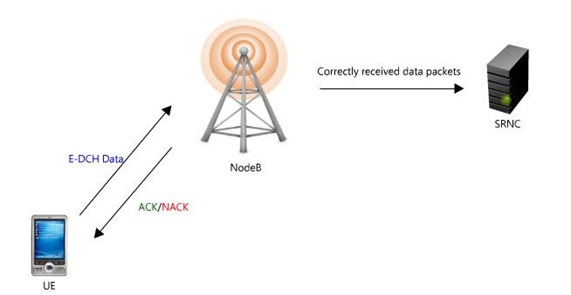 E-DCH Relative Grant Channel (E-RGCH)
E-RGCH is used to step up or step down the output power used by the UE. So E-RGCH does not carry any exact value but an indication to go up or down relative to the current serving grant.
E-HICH uses the same code channel as E-HICH to save code space.
E-DCH Absolute Grant Channel (E-AGCH)
An E-DCH Absolute Grant Channel is transmitted by the serving E-DCH cell. It carries two kind of information:
AG value
AG scope
AG value is the exact E-DPDCH/DPCCH power ratio that the UE need to use in the next transmission.
AG scope tells whether the AG value will be used by a single HARQ process or will be used by all processes.
UE Capabilities
When establishing RRC connection UE sends it E-DCH capabilities to the NW. In the RRC CONNECTION SETUP COMPLETE, UE sends information about E-DCH Physical layer category.
Release 6
E-DCH category

Maximum number of E-DCH codes transmitted

 

Minimum spreading factor

Support for 10 and 2 ms TTI EDCH

Maximum number of bits of an E-DCH transport block transmitted within a 10 ms E-DCH TTI

Maximum number of bits of an E-DCH transport block transmitted within a 2 ms E-DCH TTI

Category 1

1

SF4

10 ms TTI only

7110

–

Category 2

2

SF4

10 ms and

2 ms TTI

14484

2798

Category 3

2

SF4

10 ms TTI only

14484

–

Category 4

2

SF2

10 ms and

2 ms TTI

20000

5772

Category 5

2

SF2

10 ms TTI only

20000

–

Category 6

4

SF2

10 ms and

2 ms TTI

20000

11484

NOTE: When 4 codes are transmitted in parallel, two codes shall be transmitted with SF2 and two with SF4
Release 7
E-DCH category

Maximum number of E-DCH codes transmitted

 

Minimum spreading factor

Support for 10 and 2 ms TTI EDCH

Maximum number of bits of an E-DCH transport block transmitted within a 10 ms E-DCH TTI

Maximum number of bits of an E-DCH transport block transmitted within a 2 ms E-DCH TTI

Category 1

1

SF4

10 ms TTI only

7110

–

Category 2

2

SF4

10 ms and

2 ms TTI

14484

2798

Category 3

2

SF4

10 ms TTI only

14484

–

Category 4

2

SF2

10 ms and

2 ms TTI

20000

5772

Category 5

2

SF2

10 ms TTI only

20000

–

Category 6

4

SF2

10 ms and

2 ms TTI

20000

11484

Category 7

4

SF2

10ms and 2 ms TTI

20000

22996

NOTE: When 4 codes are transmitted in parallel, two codes shall be transmitted with SF2 and two with SF4
References
Enhanced uplink; Overall description: 3GPP TS 25.319
UE Radio Access capabilities: 3GPP TS 25.306
FDD Enhanced Uplink;Overall description;Stage 2: 3GPP TS 25.309 
Medium Access Control (MAC) protocol specification: 3GPP TS 25.321