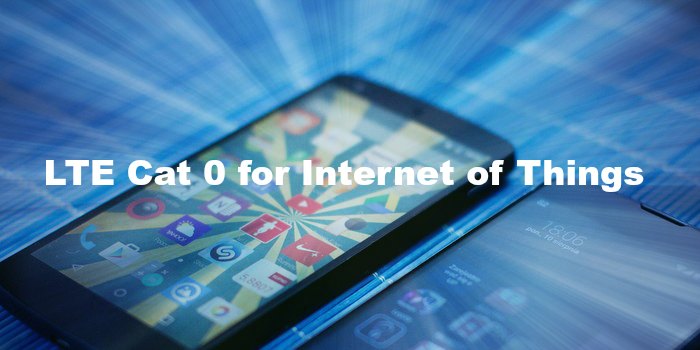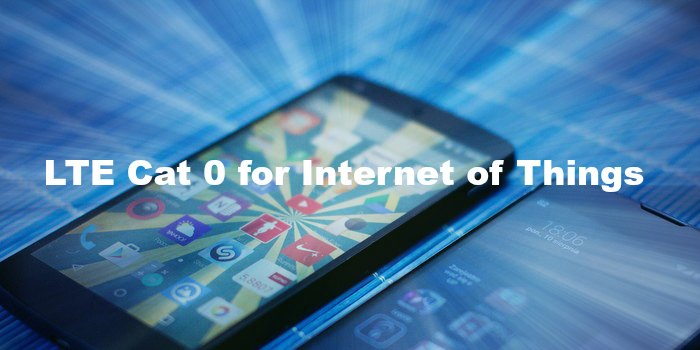 Internet of Things is the buzzword at this moment.
Whenever I go to a startup meetup these days, half of the discussion is about Internet of Things. Either it is connected cars or connected home or anything which can just talk to another device is the next big thing. Almost all ideas are now about connecting something to something.
This is really great as this will open up tons of opportunities for telecom and wireless engineers. Anyone who worked in the traditional mobile communication can now help startups and big organizations to create their next connected device.
If you are considering starting a new career in Internet of Things, this is the best time. If you are not sure about Internet of Things, check the Udemy Internet of Things course which is an excellent course to know the IoT basics.
The prediction is the IoT market will boom like anything in next few years. By 2020 there will be more than 40 Billion connected devices in the whole world, which sounds amazing.
So where are we now?
This is an important period where every company is trying bringing Internet of Things to reality. The ambiguity in standardization is the biggest bottleneck.
For example, only for home automation there are at least five different standards. Zigbee, Z-Wave, Thread, Bluetooth Low Energy and Wi-Fi HaLow. Similarly there are number of standards for each area of IoT (Industrial IoT, Health Care, Education, etc).
Though all these standards are developed to solve a specific problem, one way or another these need to be connected to the Internet. And at this moment the competing standards for this purpose are 3GPP LTE and Wi-Fi.
And LTE wins the race a big margin because of coverage and seamless mobility.
The next big question is: If LTE can provide access service to all these standards why LTE cannot power the end devices. The simple answer to this question is power consumption.
LTE is fundamentally power-hungry. It is developed to provide better throughput, not to save battery power.
But, IoT devices as such do not need best throughput. What they need is just opposite of that. These devices can work with minimum data rate but the communication need to be reliable.
Keeping this mind, the 3GPP which is in charge of developing LTE standards came up with an excellent solution.
From 3GPP release 12, LTE now supports a new UE category. LTE Category 0 or Cat 0 devices will save battery life significantly.
Here are the biggest changes in Cat 0
Uplink and Downlink throughput is now reduced to 1 Mbps
UE can have now 1 antenna instead of 2
Reduced UE receive bandwidth to 1.4 MHz allows for substantial complexity reduction
The UE will still be able to operate in all existing LTE system bandwidths up to 20 MHz
A lower UE power class will allow integration of power amplifier in single chip solution
Here is the LTE UE category table from 3GPP Specification number 36.306.

To save battery life further 3GPP Release 12 introduces Power Saving Mode (PSM). In this mode the UE performs periodic tracking area update (TAU) after which it stays reachable for paging during a configurable Active timer before it goes to sleep (not reachable).
So, what is the actual real life gain using this?
More than 10 years battery lifetime with 2 AA batteries can be achieved for delay-tolerant traffic if the TAU cycle is 10 minutes.
Lte Cat 0 and Cat 1 Comparison
Let's compare the LTE Cat-1 and Cat-0 to find out what are the biggest changes.
| Feature | Cat 1 | Cat 0 Rel. 12 |
| --- | --- | --- |
| UE RF Bandwidth | 20 MHz | 20 MHz |
| DL Peak Rate | 10 Mbps | 1 Mbps |
| Max. no. of Downlink layers | 1 | 1 |
| UE Peak Rate | 5 Mbps | 1 Mbps |
| No. of RF Rx chains | 2 | 1 |
| Max. UE Tx power | 23 dBm | 23 dbM |
| Duplex Mode | Full | Half and full duplex |
If you are thinking how the signaling logs look like, ShareTechNote has a detailed explanation about LTE Cat-0.
The message you can check is the UeCapabilityInformation. This message contains details about UE Category.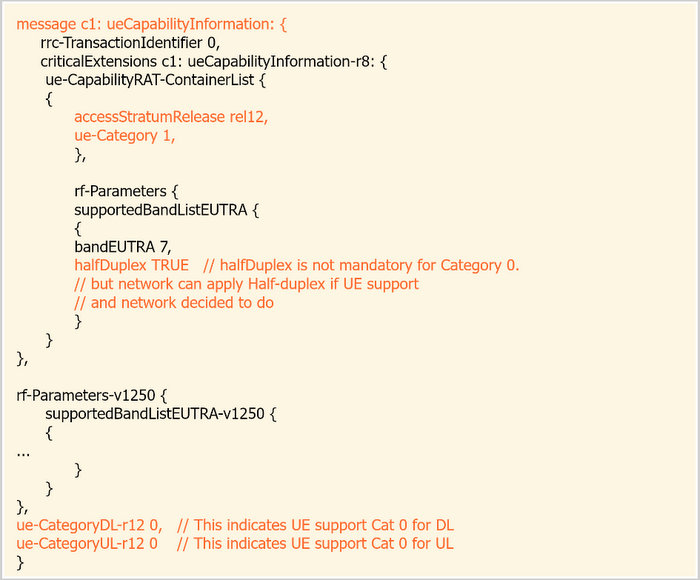 As you can see a 3GPP Release 12 UE now shows the DL and UL Category separately. Also from the same message you can see if UE is using Half Duplex or not.
Who are working on LTE Cat-0 Development?
The main companies working in cellular IoT are Ericsson, Nokia, Huawei, Sierra Wireless, Telit and U-Box. But along with these there are some new players like France Sequans and Israel Altair Semiconductor.
These companies think that the LTE M2M business is going to boom and also see the 450 MHz band-31 as the global LTE Cat-0 M2M band.
So, when are LTE Cat-0 devices coming to market?
LTE Cat-0 is already available in Release 12 and 3GPP is working on LTE Cat-M which is in active development phase right now. But to support these devices carrier also need to provide back-end support in the network side. Network vendors like Ericsson, Nokia and Huawei are putting their efforts.
If things go well, we will see LTE Cat-0 powered M2M devices by end of this year or beginning of 2017.
Why this is important for us?
Traditional telecom and wireless systems were developed for people not for things. It is big time for us to change that perception now and need to think differently.
If you are starting with Internet of Things I will highly recommend checking the Udemy online course on Internet of Things. This will give you a pretty solid idea about this new concept.
To know more about 3GPP Machine-to-Machine (M2M) you can check these excellent presentations from Ericsson and Nokia.
What do you think about LTE Cat-0 for Internet of Things?