3GPP message decoder is a very simple but powerful tool to decode GSM, UMTS, LTE, IP messages. This is developed by protocolanalyze. 3GPP decoder is a simple application using Wireshark to decode messages.
3GPP Message Decoder has a very simple interface.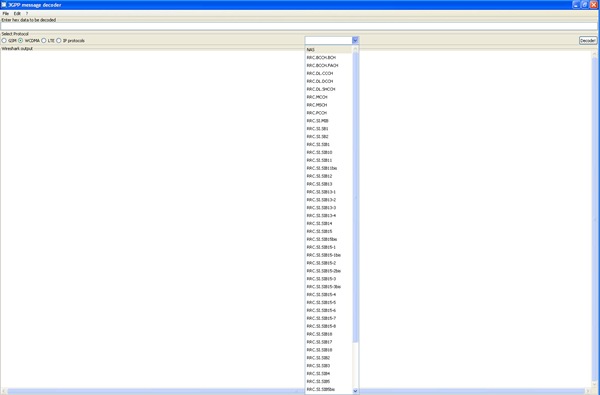 The user interface has the following sections:
Enter the HEX message to decode in the top text area.
You can choose between GSM, WCDMA, LTE or IP Protocol.
Use the dropdown to select between different message types to select.
The decode button.
Decoded message window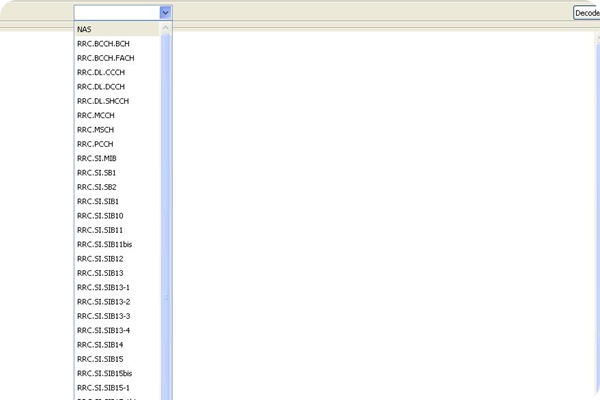 Message Type Supported
3GPP Message Decoder supports the following message types.
GSM
GAN TCP
GAN UDP
GSM CCCH
GSM SACCH
LLC
NAS
SNDCP
SNDCPXID
UMTS
NAS
RRC BCCH.BCH
RRC BCCH.FACH
RRC DL.CCCH
RRC DL.DCCH
RRC DL.SHCCH
RRC MCCH
RRC MSCH
RRC PCCH
RRC UL.CCCH
RRC UL.DCCH
RRC UL.SHCCH
RRC SIs (SIBs and MIB)
LTE
RRC BCCH.BCH
RRC BCCH.DL.SCH
RRC DL.CCCH
RRC DL.DCCH
RRC PCCH
RRC UL.CCCH
RRC UL.DCCH
NAS EPS
IP Protocols
Decoding Message
After entering a correct hex string and choosing the appropriate option press the decode button to decode the message. You can copy (Ctrl A and Ctrl C) and paste (Ctrl V) the output result from the output window to a notepad or word processor.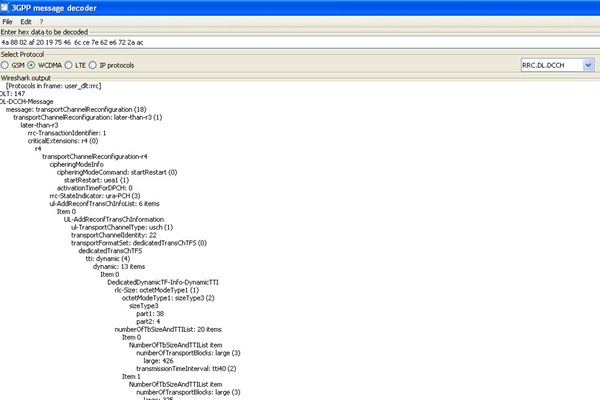 Download 3GPP Message Decoder
Download 3GPP Message Decoder from the following link: