A few weeks ago I was looking into an issue related to E911 or Emergency call over the IMS network. Though it appears as most of the concepts related to emergency calls are still same in IMS as compared to legacy systems, such as 3G and GSM, there are many new things are added for IMS.
Both in UMTS and GSM and other CS based systems emergency call was often referred to speech calls, but the IP Multimedia Subsystem(IMS) supports different other types of media along with speech calls. When other media types are used during an emergency session, it is referred as IMS Multimedia Emergency Session (MES).
As usual whenever the user calls an emergency number by default the call is routed to the emergency service.
Let's find it out what different media types an IMS UE supports during a E911 session towards IP PSAPs (emergency response centre).
Real time video both simplex and fullduplex
Text-messaging (Similar to SMS)
File transfer
Video clip sharing, picture sharing, audio clip sharing
Voice
GTT


IMS also supports adding and removing various media types during communication. For example, when a voice call is ongoing, users have the provision to add a video clip or send a text message.
Which UEs can start an MES session
As MES is an advanced feature, not all UE may support this, also it depends on local regulations when IM CN should support these kind of services and when not.
An IMS MES from unauthenticated UE shall be supported by IM CN if required by local authorities.
IMS MES shall be supported by UEs that are subject to service restrictions, e.g. for UEs camping on cell in a forbidden PLMN or in a forbidden LA. Another example is when UE is on a CSG (Closed Subscriber Group) cell but is not part of that CSG.
Another big question comes into mind, what will happen if UE leaves IMS coverage.
When a UE in IMS MES with voice and other media moves out of IMS voice coverage and voice call continuity is supported, then the other media type will be dropped and the session is changed to a normal emergency speech call or CS emergency call.
If there is no active voice session, the other media type will drop and user has to restart a new CS emergency call.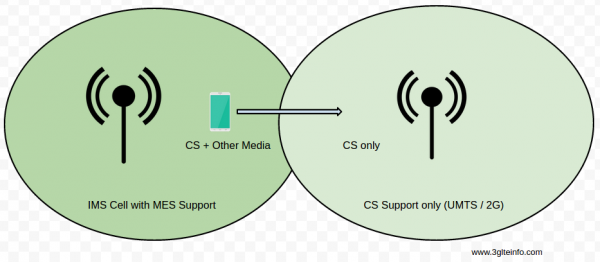 I was looking to find an MES call flow, but no luck till now. I will update this when I will get more information on call flow and details of different messages involved.