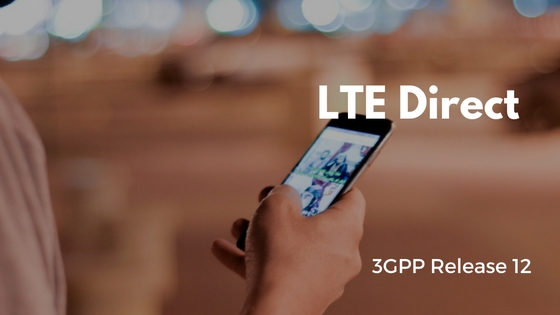 LTE Direct is the autonomous long-distance D2D (Device to Device) protocol introduced in 3GPP Release 12 specification. This communication protocol will exploit direct communication between nearby LTE devices.
The biggest benefit will be less spectrum utilization, better throughput, and energy consumption. At the same time, D2D will enable pear-to-pear location-based applications and services.
As a theory LTE Direct can be used to communicate up to 1000 devices in a proximity range of 500 meters. Public expressions will enable users to broadcast their own interest to proximity users using discovery protocol, similar to Bluetooth.
When a link is established between two devices, they can communicate directly without any eNodeB involvement.
Here are some of the technical aspects of LTE-Direct:
Device-to-Device discovery: Discover up to 1000 devices in a proximity range of ~500 meters.
Battery life efficiency: As D2D uses system level implementation, there is no need for apps or even GPS.
Interoperability: Apps, OS, and platforms which are going to use the D2D functionality can interoperable with each other.
How LTE Direct Works?
LTE Direct is a service layer discovery feature for mobile applications. A mobile application instruct LTE Direct to monitor for mobile application services in other LTE devices at the same time can broadcast their own services.
All LTE Direct devices can broadcast their needs and services using beacons. These beacons are called 'Expression' in LTE Direct terminology.
Expressions are 128-bit service layer identifiers that represent many different things, such an identity, a service, an interest or a location. Further Expressions can be public or private.
LTE Direct is optimized for both LTE FDD and LTE TDD systems. In FDD, LTE Direct uses uplink resources and in TDD it uses dedicated frames. It uses LTE network for user authentication, resource allocation and timing.
An LTE Direct enabled device wakes up during a specific period, either to broadcast or to listen to services.
One of the biggest advantages of LTE Direct is it uses less than 1% os LTE uplink system resources.
LTE D2D Architecture

ProSe: Proximity-based Services
PC1: Interface between ProSe application in the UE and ProSe Application Server.
PC2: The reference point between ProSe Application Server and ProSe Function.
PC3: The reference point between the UE and ProSe Function. Using the PC3 interface, the UE contacts the ProSe Function. The IP address of the ProSe function can be preconfigured (hard-coded). Alternatively, the LTE UE identifies the IP address of the ProSe function via DNS look-up.
PC4: The interface between the EPC and the ProSe Function.
PC5: It is a one-to-many communication interface between two LTE Direct UEs.
A UE need to be in the RRC_CONNECTED state to contact the ProSe function. The ProSe authorization is always done on per PLMN basis. However, the UE is not required to registered in the PLMN where it wants to do ProSe communication. In this case, the UE needs to contact the ProSe Function in its HPLMN.
The ProSe Function sends the following parameters to the UE:
Security parameters
Group IDs
Group ID multicast addresses
Radio resource parameters to use in OOS scenario
Finally, let's compare LTE Direct with Wi-Fi Direct and Bluetooth Direct and find out the biggest advantages of LTE Direct.
LTE Direct vs Wi-Fi Direct
LTE Direct vs Bluetooth Direct
LTE Direct vs OTT (Over the Top)