Power Headroom Report MAC control element tells if UE can transmit at a higher transmission power or not. In basic terms this indicates how much relative transmission power left in the UE.
So a simple formula for Power Headroom in LTE is
Power Headroom = UE Max Transmission Power – PUSCH Power = Pmax – P_pusch
So if Power Headroom is a positive value, that means UE is still capable to send at higher Tx power or it is capable of transmitting at higher throughput. If the value is negative, UE is already transmitting at maximum Tx power.
In the positive Power Headroom case, network may allocate more resource blocks to the UE, but in the negative Power Headroom case it is assumed that UE is already using the maximum resource blocks and no need to assign more.

NOTE: The reported power headroom shall be estimated over 1 subframe. The power headroom shall be estimated only in a subframe where PUSCH is transmitted.
Power Headroom Report Control Element
Power Headroom Report MAC control element is of single octet long. It has three field with the two left most bits reserved. The rightmost 6 bits are defined as PH field.

PH of Power headroom field corresponds to the power headroom level defined in the following table.
Power Headroom levels for PHR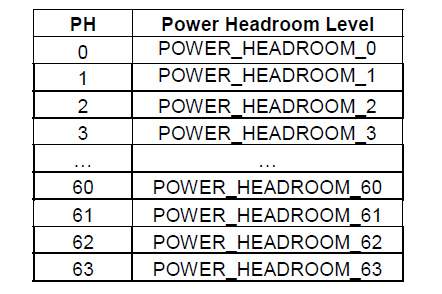 Power Headroom Report Mapping
The power headroom reporting range is from -23 …+40 dB.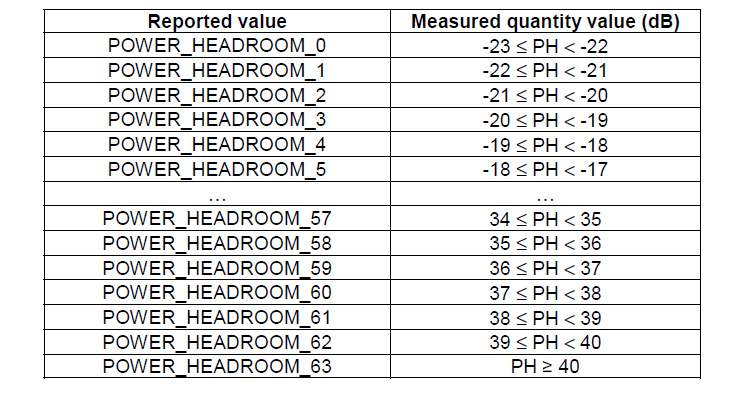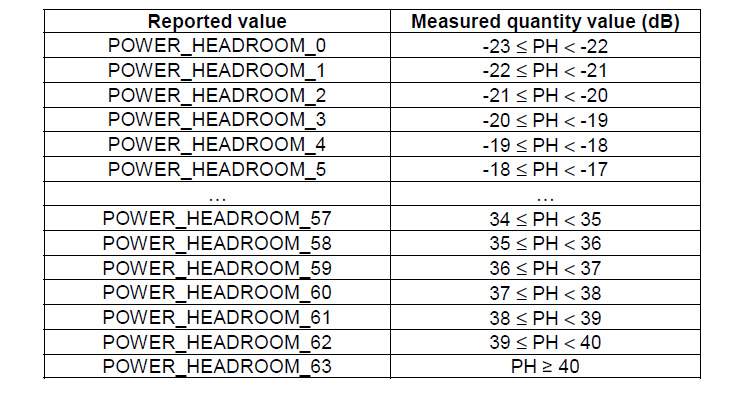 When does UE send Power Headroom Report?
There are two way this can be configured in the UE through RRC messages.
1. When down link pathloss threshold is reached (dl-PathlossChange).
2. When periodicPHR-Timer is set, UE send periodically the Power Headroom Report to the network.
Check for RRC messages like RRC Connection Setup, RRC Connection Reconfiguration to get the details of the Power Headroom configuration used. Search for IE phr-Config.

dl-PathlossChange: DL Pathloss Change and the change of the required power backoff due to power management. Value in dB. Value dB1 corresponds to 1 dB, dB3 corresponds to 3 dB and so on
periodicPHR-Timer: Timer for PHR reporting. Value in number of sub-frames. Value sf10 corresponds to 10 subframes, sf20 corresponds to 20 subframes and so on.
prohibitPHR-Timer: Timer for PHR reporting. Specifies, how long PHR transmission is prohibited. Value in number of sub-frames. Value sf0 corresponds to 0 subframes, sf100 corresponds to 100 subframes and so on.
Check these specifications for more details:
36.133: E-UTRA Requirements for support of radio resource management
36.321: E-UTRA Medium Access Control Protocol
36.331: E-UTRA Radio Resource Control Protocol